Are you Looking out for the recommendations for Best Vacuum Cleaner For Home use? In this article, we will recommend all top and best vacuum cleaners.
Finding the most suitable and best vacuum cleaner can advance your cleaning cycle and deliver clean appliances, floors, furniture, stairs, and more. The right vacuum cleaner should have all the features you'll use most often. 
If you want to buy a top vacuum cleaner that is reliable, easy to handle, and an excellent value for money. We've researched the most popular and best vacuum cleaners in the market to help you choose the right one.
Here are some of the best vacuums for your home.
AFFILIATE DISCLOSURE
BestSeven.in is a participant in the Amazon Services LLC Associates Program, an affiliate advertising program designed to provide a means for sites to earn advertising fees by advertising and linking to Amazon.in
| No | Product | Details |
| --- | --- | --- |
| | Dyson V7 Animal Cord-Free Vacuum Cleaner | |
| | Philips PowerPro FC9352/01 Compact Bagless Vacuum Cleaner | |
| | Eureka Forbes Trendy Zip 1000-Watt Vacuum Cleaner | |
| | AmazonBasics Vacuum Cleaner With Power Suction | |
| | Inalsa Vacuum Cleaner Wet And Dry | |
| | Prestige Wet & Dry Vacuum Cleaner | |
| | Inalsa Spruce-1200W Vacuum Cleaner For Home | |
Top 7 Best Vacuum Cleaner for Home Use
It is a Cord-free Vacuum Cleaner that makes it hassle-free.

The docking station easily stores and recharges your Dyson V7 vacuum

The Cleaner Head drives deeper into the carpet to remove dust particles and dirt from the carpet.

It comes with four additional attachments: 1. Combination Tool, 2. Crevice Tool, 3. Mini Motorised Tool, 4. Mini Soft Dusting Brush

It is powered by the Dyson digital motor V7, which generates powerful suction of up to 100 AW

It is portable and also transforms into a handheld for reaching up to the most places

It is Certified asthma & allergy friendly

The filter removes 99.97% of microscopic dust particles and dirt as small as 0.3 microns
The Dyson V7 Animal cord-free vacuum cleaner is engineered for all floor types, the cleaning head goes deep into the carpet to remove ground-in dust, pollens, and other dirt particles.
It quickly converts into a handheld cleaner for quick clean ups, spot cleaning, and cleaning complex places where it is tough to reach. It provides up to 30 minutes of cleaning.
The motor V7 spins up to 110,000 rotations per minute – generating up to 100 AW of strong suction.
The hygienic dirt ejector clears dust particles from the container in a single go. This vacuum cleaner also captures microscopic dust.
The Dyson V7 Animal Cord-Free Vacuum Cleaner comes with a handy docking station that charges the vacuum cleaner and holds additional accessories.
It has a power cyclone 5 advanced technology that separates dust from the air

It has a 1900W motor for strong suction power

Dimensions of product (LxWxH): 410 x 281 x 247mm

Suction power (max):370W

It has input power (IEC) of 1600W, vacuum (max) :33kPa. Weight of product: 4.5 kg

The turbo brush removes 25 percent more dirt, hairs, and dust.

The multi clean nozzle is great for precise floor cleaning.

The advanced dust container is designed for hygienic emptying

The active lock couplings easily adjust to every task

The soft brush is integrated into the handle that is always ready to use
Philips PowerPro Compact vacuum cleaner provides great suction pressure for best cleaning. It accelerates air in the cyclonic chamber to separate dust.
The powerful twisting action maximizes airflow and performance for exceptional cleaning. The 1900-watt motor creates powerful suction for fast, deep cleaning results
The advanced filtration system seizes >99.9% of tiny dust particles – including pollen, pet hair, and dust mites. The dust bin is designed for hygienic cleaning and removing the dirt with one hand, which helps minimize dust.
Philips PowerPro Compact vacuum cleaner allows deep cleaning of carpets which easily removes dust, hair, and fluff. It has a rotating brush inside the nozzle that removes tiny dust particles and pet hair, resulting in better cleaning.
The suction of the Motor is 1900 mm of the water column

It is a lightweight, compact vacuum cleaner and on-board accessory storage

It has an automatic cord winder

It has a dust bag full indicator

Suction control for variable airflow. 

Usage Surface-Dry Usage Area-Indoor

It is a comfortable operation

It has easy to use foot-operated power control

Warranty: 12 months Power: 1000 watts. Voltage : 230V AC, 50Hz. Cord Length: 2 m
Eureka Forbes trendy Zip Vacuum Cleaner comes with a 1000 W motor that has a strong suction which helps remove deep embedded dust and dirt.
It has a wide range of accessories that can be used efficiently for versatile cleaning. It is designed with an onboard storage facility for all the accessories to ensure that the unit is kept in ready to use position.
This vacuum cleaner helps you carry the unit without the removal of the hose pipe, thus helping quick cleaning and organized storage. The smart indicator warns you when the dust bag gets full.
Eureka Forbes trendy Zip Vacuum Cleaner has a thermal overload cut out that protects the unit from getting damaged in case of overload, heating, or current fluctuations.
It is a 700-watt cylinder vacuum cleaner with a bag

25 kWh consumption per year

It has a suction power of up to 203 Watts.

Triple action nozzle for thorough absorption of fine dirt 

It has an easy-to-use sliding button to regulate the suction power)

The washable HEPA-12 filter seizes more than 99.5 percent of all particles for a cleaner air

IT has 1.5 l capacity, and it is small, compact and lightweight, easy to carry

It has a 5 m cable length, 1.5 m adjustable hose

It comes with 2 Years Limited Warranty in case of manufacturing defects
AmazonBasics Vacuum cleaner is compact, lightweight, and portable that moves easily from room to room for thorough cleaning throughout the home.
The vacuum cleaner gives 700 watts of power, smooth-rolling, and a variety of useful accessories for complete cleaning.
The vacuum cleaner highlights an A energy rating for energy efficiency (and lower energy bills)—while sustaining ultimate power and extraordinary performance.
The vacuum cleaner has a HEPA 12 air filter that traps more than 99.5% of all fine bits from the air that passes through it, including dust mites, pet dander, pollen, and other airborne allergens.
A simple press of the vacuum cleaner's user-friendly foot switch ensures optimal performance for all floor types.
The AmazonBasics vacuum cleaner's variable suction control offers improved versatility. It uses maximum suction for hard floors and then changes to less suction for plants, drapes, and other delicate surfaces.
It has a cloth dust filter and uses the sponge filter when sucking liquid

The blower function is best for drying and cleaning narrow and hard-to-reach areas.

It does not use any filter in the vacuum cleaner.

It has a container capacity of 10 liters

It is equipped with a powerful motor that delivers 14KPA strong suction

The vacuum cleaner has a polymer tank for longer life

Safe Buoy technology immediately stops sucking water when the liquid capacity reaches a critical point. 

This vacuum ensures low-noise operation

It is compact, lightweight, and is easy to store without occupying much space

The Carpet Brush is for rug and floor cleaning 

The large nozzle is for small areas and soft surfaces
The Inalsa versatile vacuum cleaner delivers clean floors without causing you any strain. It helps you reach the most difficult nooks and corners of your home.
This multi-use vacuum cleaner will clean everything most effectively whether it is an overstuffed storeroom, garage, or your baby's playroom.
It has a 1000W powerful and efficient motor that provides high performance in cleaning and maintain long life working.
Safe Buoy Technology quickly stops absorbing water when the storage capacity has reached a critical point.
The Inalsa versatile vacuum cleaner can be easily taken up and down stairs even by women. It has different nozzles for multiple uses that allow wet suction, dry suction, and blowing function. You can use it to clean your office, home, lawn, car, garbage, etc.
Wet and dry cleaning

Powerful suction and blower

Advanced HEPA Filter- Traps fine dust

360-degree wheels

Auto cut float, accessory storage, internationally certified

Warranty: 1 yrs product warranty (India only)

Power: 1200 watts, Voltage: 230 V
Prestige Wet and Dry Vacuum Cleaner sweep and mops to assure maximum hygiene. It comes with a powerful 1200 watts motor which has strong suction and blower function for cleaning.
It has an advanced HEPA filter that removes fine dust particles and protects the motor from getting clogged by dust and has a wide no. of accessories that facilitate a multipurpose cleaning.
The dust case capacity of 10L that can clean large areas without emptying the bin repeatedly auto cut float protects the motor from getting damaged due to overflow of water.
Prestige Wet and Dry Vacuum Cleaner have a float suction nozzle that extends to cross the air-flow to the motor. The movement of the vacuum cleaner is simple with its 360-degree swivel wheels, so you can take it throughout your house which makes it more convenient to use.
It has Hose Pipe length (cm):130, Extension Pipe length (cm):40;

The 1200W powerful motor provides plenty of suction power with high performance. Suction Power (Watt): 180

The high-filtration cloth dust bag is washable and reusable

It has 360-degree wheels rotation for easy and smooth movement

It weighs only 2.8 Kg, and it is capable of fitting into small places 

It is lightweight and compact that makes it easy to store

It has a tank capacity of 2L that proves to be convenient for long cleaning

Includes: Main Unit, Extension pipe 2 no's, Flexible hose pipe with Curved Hand Grip, Crevice Nozzle cum Upholstery Brush, Sofa Brush, Multi Brush for Carpet/Floor, Blower Plate, Instruction Manuel cum Warranty Card
Spruce 1200 W vacuum cleaner is an essential cleaning partner to keep your home clean and tidy. It has a 14feet cord, 8 feet hose, and extension pipes combine for 22 feet of cleaning reach.
It has a handy filtration system that eliminates almost all dust and dirt, so you and your family enjoy cleaner air. The automatic cord re-winder does not trip or gets tangled in furniture.
The Inalsa Vacuum Cleaner is compact and lightweight, which makes it more comfortable for you to get around and carry it easily from room to room. It is easy to store with horizontal or vertical parking options.
The dust case lets you clean large areas without the trouble of dumping the bin repeatedly and gives an interruption-free performance. The 2.0 L reusable dust cloth bag ensures multiple cleaning sessions.
Top 7 Best Vacuum Cleaner for Home Use: Buying Guide
Dyson V7 Animal Cord-Free Vacuum Cleaner
Philips PowerPro FC9352/01 Compact Bagless Vacuum Cleaner
Eureka Forbes Trendy Zip 1000-Watt Vacuum Cleaner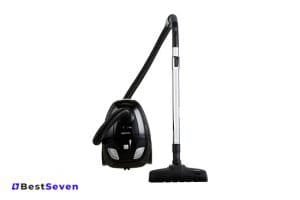 AmazonBasics Vacuum Cleaner With Power Suction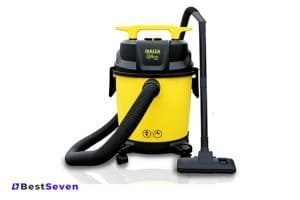 Inalsa Vacuum Cleaner Wet And Dry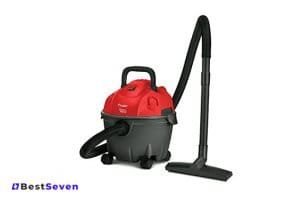 Prestige Wet & Dry Vacuum Cleaner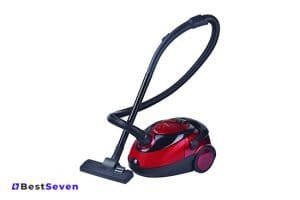 Inalsa Spruce-1200W Vacuum Cleaner For Home